GT FLEX Clear Aligner & Retainer Materials
GT FLEX ® clear aligner & retainer materials are a new generation of thermoplastics engineered specifically for clear aligners and retainers. Their superior strength, flexibility, and affordability make GT FLEX the easy choice for dentists, dental laboratories and aligner companies, worldwide.
Super Strong, Super Flexible, Super Clear
Each of the three GT FLEX ® formulations – ORIGINAL, PRO, and MAX – offers a world-class combination of flexibility, strength, and clarity.

Flexibility
Flexural Modulus of Elasticity (psi; lower number = more flexible)
Strength
IZOD Impact Strength (ft-lb/in, notch)
Clarity
Light Transmission (above 80% is good; above 90% is exceptional)
Three Great Choices for Aligners
All three GT FLEX ® materials are excellent options for clear aligners. They each offer greater flexibility and strength than most comparable materials available today – usually at a better price!
Two, Extra-Strength Options for Retainers
We engineered GT FLEX PRO and GT FLEX MAX to be *10-50x stronger* than GT FLEX ORIGINAL, making them the go-to options for clear retainers. But we didn't forget about flexibility. In fact, both PRO and MAX are more flexible than ORIGINAL, despite their added strength, which lends an extra element of comfort to PRO and MAX retainers.
BPA-Free, Latex-Free, Phthalate-Free, and Gluten-Free
The GT FLEX materials are engineered with patient health and safety in mind. The materials are 100% free of BPA, latex, phthalate, and gluten.
Proven Success
GT FLEX ® aligner & retainer materials are helping dentists around the world achieve great outcomes for their patients.
In the example below, the treatment plan addressed crowding issues, midline adjustments, general alignment of teeth, and bite correction. It also included IPR and attachments.
In total, 8 upper and 16 lower GT FLEX aligners were used in the initial treatment phase, followed by a series of 6 upper GT FLEX aligners for refinement.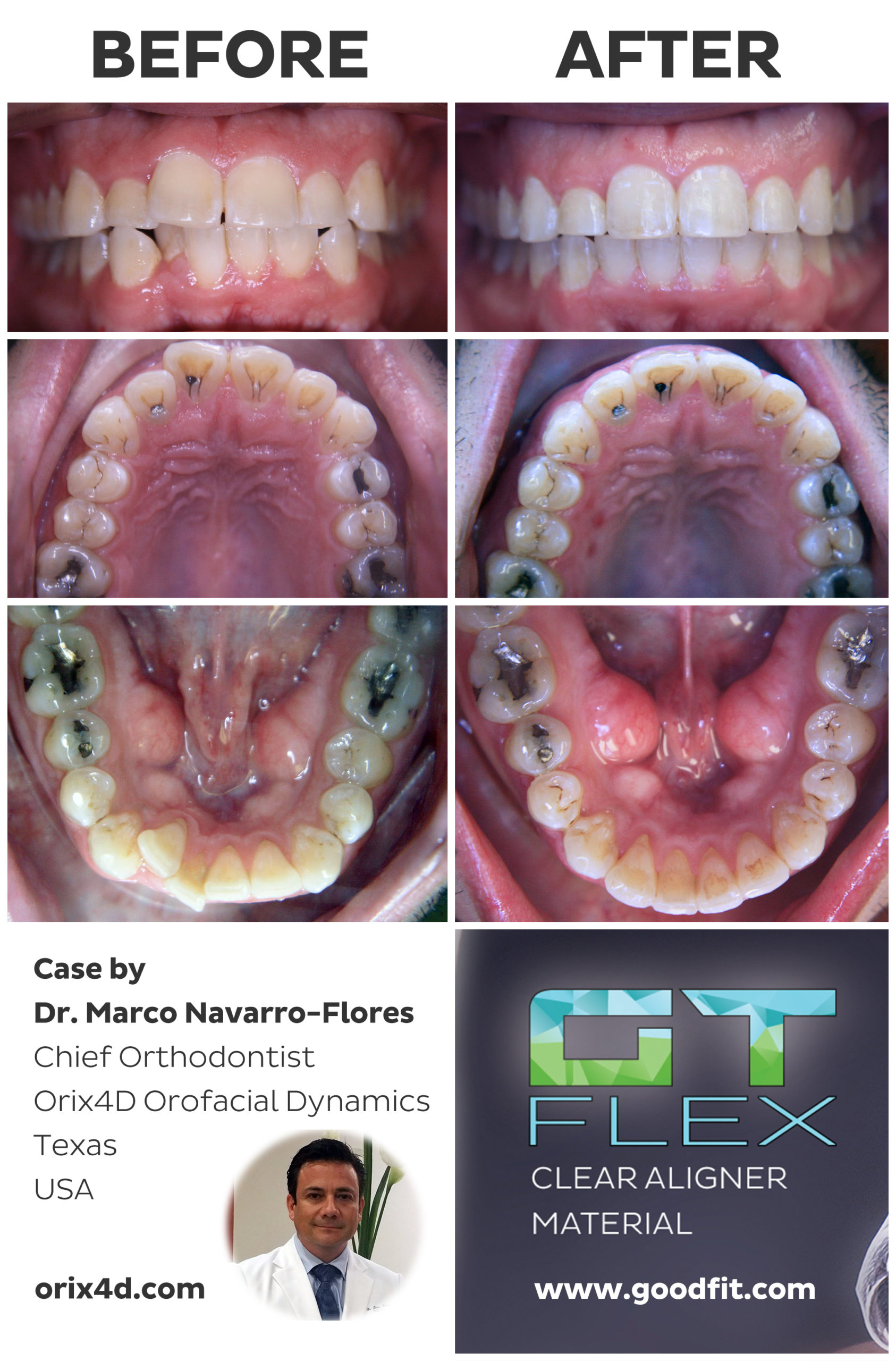 A special thank you to Dr. Marco Navarro-Flores (Chief Orthodontist, Orix4D Orofacial Dynamics in Texas, USA – orix4d.com) for sharing this case.
High-Volume Production? GT FLEX Is There for You!
We've spent years working to validate and optimize the GT FLEX materials for use with high-volume, automated production solutions for clear aligners and retainers.
We're proud to be a trusted partner/material for companies like Hamer (high-volume thermoforming), Digital Dental (automated trimming), and TYKMA Electrox (laser marking).
We're also proud (and grateful!) that GT FLEX has become the chosen material for some of the biggest aligner and retainer producers in their regions throughout the world.
Try GT FLEX Today!
We have special pricing and sample packs to make it easy to get started with GT FLEX. Just choose the version that's best for you:

GT FLEX Original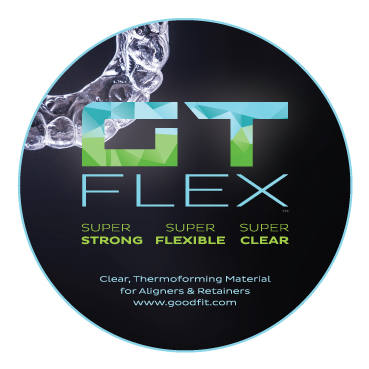 September 2023 SPECIAL PRICE $2.39 $1.97 per sheet
(for 10-sheet SAMPLE packs or 100-sheet packs)

In Stock
Excellent mix of clarity, strength, and flexibility
GT FLEX PRO
September 2023 SPECIAL PRICE $3.49 $2.96 per sheet
(for 10-sheet SAMPLE packs or 100-sheet packs)

In Stock
More flexible *and* 10x stronger than ORIGINAL
GT FLEX MAX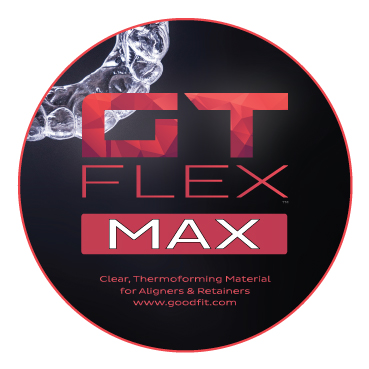 GT FLEX MAX IS COMING SOON $4.59 $3.69 (est.) per sheet
(estimated pricing at product launch; subject to change)

Pre-Order
Maximum flexibility and maximum strength
Still Looking for More Information?
Still Looking for More Information?
Read on… We have a lot more to share about GT FLEX!
High Strength and High Flexibility
The ability to provide both high strength (for fracture resistance) and high flexibility (for comfortable tooth movement) is one of the key advantages of the GT FLEX clear aligner & retainer materials. In many materials, if you increase flexibility you risk losing strength. But GT FLEX delivers both strength and flexibility at the same time.
More Continuous Force
All clear aligners lose strength over the time that they are worn in the mouth. If the strength at which they push against the teeth starts too low or changes too rapidly, it makes it very difficult to get effective, predictable tooth movement.
But GT FLEX applies a more continuous, effective force over time, helping you achieve more predictable tooth movement:
Ultra-Low Water Absorption
The GT FLEX clear aligner & retainer materials have ultra-low water absorption – measured at just 0.14% in 24 hours – which helps them stay clear and odor free in the mouth. It also helps make GT FLEX…
Easy to Use
Some aligner and retainer materials need to be processed within 15 minutes of removing them from their protective pouches. This is typically due to excess water absorption. If the material absorbs too much water prior to processing, the heat from the thermoforming machine will turn that water into steam. And that steam will create bubbles, which reduce both the clarity and the strength of the final aligner.
With its ultra-low water absorption, GT FLEX has no 15-minute processing restriction. You can effectively process it at your leisure, and it's unlikely to form bubbles during processing.
Dual, Protective Lamination
The GT FLEX clear aligner & retainer materials come with a super-thin, protective lamination on both sides. These protective layers are designed to stay in place throughout the thermoforming process. They help protect the aligner or retainer from absorbing potentially nasty chemicals from the printed models and from dust or other debris that could reduce the clarity of the finished aligner or retainer.
They also provide a generally higher level of sanitation to the finished aligner or retainer – some dentists even deliver the aligners or retainers to patients with these protective layers still in place.