GT FLEX Indications of Use
Intended Use
The GT FLEX materials are intended for use in the fabrication of orthodontic and dental appliances such as clear aligners and retainers.
Indications (Choosing the Right Material)
All three of the GT FLEX materials – Original, PRO, and MAX – are indicated for use in clear aligner therapy. But their different material characteristics make specific GT FLEX materials better-suited for certain types of patients or for other applications such as retainers:
| Indication | Recommended Material |
| --- | --- |
| Aligners – Standard | |
| Aligners – Bruxers* | |
| Retainers – Standard | |
| Retainers – Bruxers* | |
* Bruxers or any patient with an occlusal scheme, jaw relation, or other condition that leads to stronger-than-normal occlusal forces.
Contraindications
The GT FLEX materials should not be used for patients with a history of allergic reactions to plastics.
Need to Reorder?
All three of the GT FLEX clear aligner & retainer materials offer a superior mix of clarity, strength, and flexiblity:

GT FLEX Original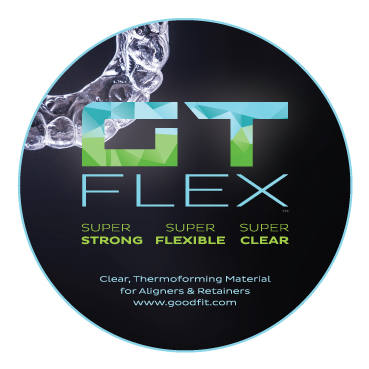 June 2023 SPECIAL PRICE $2.39 $1.89 per sheet
(for 10-sheet SAMPLE packs or 100-sheet packs)

In Stock
Excellent mix of clarity, strength, and flexibility
GT FLEX PRO
June 2023 SPECIAL PRICE $3.49 $2.79 per sheet
(for 10-sheet SAMPLE packs or 100-sheet packs)

In Stock
More flexible *and* 10x stronger than ORIGINAL
GT FLEX MAX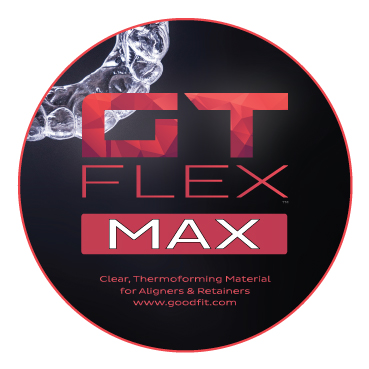 GT FLEX MAX IS COMING SOON $4.59 $3.69 (est.) per sheet
(estimated pricing at product launch; subject to change)

Pre-Order
Maximum flexibility and maximum strength
Next Up: GT FLEX ® Thermoforming Instructions